The latest world record was set in Tahiti: 4,792 ukulele players! We'll aim for at least 4,793. Piece of cake, said thte Ukulele Man! We'll see how far we get! 😉
In 2002, the Swedish Ukulele Man, Thomas Allander wrote to Guinness' World Records and asked to have the category "largest ukulele ensemble" approved. It was approved, but before the Swedish Ukulele Man could actually set the record, in 2005 it was set in San Diego, USA,, by 125 people.
That's why, in 2007, The Ukelele Man amassed forces at Långholmen, Stockholm, and created the ensemble UKULELE 07, which set the record with 401 ukulele players. The successful event can be seen below, captured deftly by Ronja Grimstedt. Thanks, Ronja! The actual RECORD ATTEMPT and a little more, 8 minutes.
Selections from the Festival. Sound of Siljan sang. Check if you're in there!? 16 min

An Anonymous source captured the segment where everyone plays together, 2 min.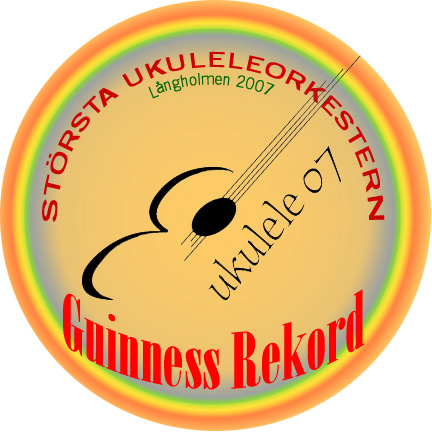 See also the previous website from 2007 ukulelefestivalen.se
In 2009, our record was topped in London by 852 players. After that, it was taken back by Sweden in 2011 when 1,547 ukulele players played together in Helsingborg. A couple of years later, the Japanese gathered over 2000 people, then on July 18, 2014, there were 2,370 at a music school in England. That was the record when Ukulele Man began planning to return the trophy to its rightful place. But in April, 2015, on Tahiti in the South Seas, the record was nearly coubled  Tahitians and Hawaiians in an ensemble of 4,792 peeps!